Nightingale Falls Farmstay - Whakatete Bay, Waikato
ADVENTURE | FARM TOUR | WALKING TRACKS
---
Highlights
Farm Tour, meet and feed the animals
Walking trails and bush walks to visit Nightingale Falls, Black Hole and White Rock
Build a Bivi, go on an Adventure Night Walk, or Dinosaur Rock Hunting!
---
---
Activities on or nearby this property
Access to: Lakes | Rivers | Streams | Beaches
---
Paid extras you might like to add
These will be available to select during the booking progress
---
Room Info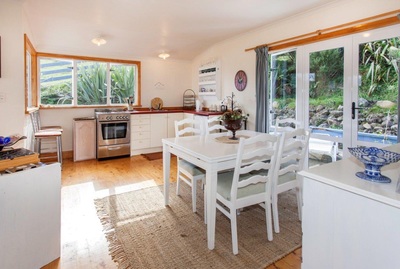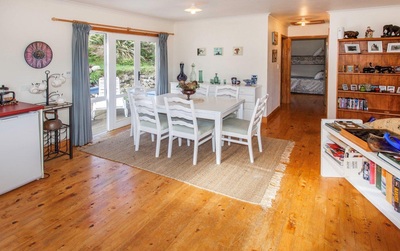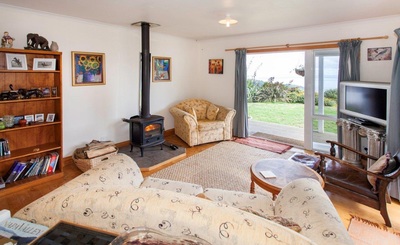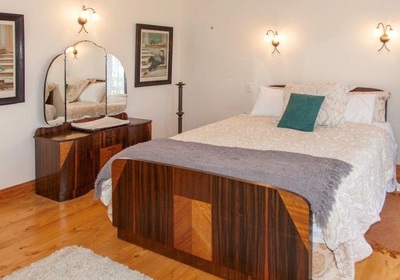 Bedroom 1: 1 x Queen bed
Bedroom 2: 2 x Single beds (bunk set)

---
Reviews
Nightingale Falls Retreat was a true highlight of our trip in New Zealand. Karyn and Scott are amazing hosts, and their property is absolutely stunning. The whole experience was an exciting adventure, and I would recommend it for anyone who wants to experience the dictionary definitions of "off the beaten path" and paradise. Between the breathtaking views, the delicious home cooked meals, the adorable, friendly animals, and the gorgeous accomodations, it was definitely a perfect trip. We can't wait to come back someday!
Twinkingham Cottage was lovely and the location is spectacular - half the adventure is making it up to the house in the first place! The family all welcomed us on arrival and the cottage itself had everything we needed. We also did the farm tour which was great and our 4 year old fell in love with the animals, especially the dogs. It is just a same we didn't stay longer, but we will be back.
Off the grid and 10 minutes to town. What an amazing experience. Horses on the lawn, stunning nature and hiking. Most of all hosts who love to take care of people, share their beautiful, rustic,magical place and ensure you've everything you need to make the most of it. Loved our few days and highly recommend.
---
Amenities
Family Friendly
Not Suitable for Children
Property Manager on site
Single Safe
Show all amenities
---
Have a question about this property?
Click here to send us a message
---
Eating and Drinking
Twinkingham is fully self-contained with a kitchen, gas hob (no oven) and fridge making it easy to prepare a meal or snacks.
We also offer cooked meals if you do not wish to cook. Let me know in advance so I can prepare a lovely meal for you.
---
About your host, Martin

It is our goal to make your stay with us as comfortable and relaxing as possible.

Outside of Thames in Tararu Bay, traveling up the middle of a gently sloping valley that meanders along a riverbed you will arrive at Nightingale Falls. It is a five kilometre journey along the gravel road, until you come all the way to the very end and can truly go no further. Then you have reached the large blue gate and the beginning of your adventure.

We will meet you at the gated entrance to welcome you so pre-arranged bookings are essential. If you have a four wheel drive you will be escorted to your accommodation up the 1km long driveway. If not Nightingale Falls has a free shuttle operating anytime for your convenience to take you to and from your accommodation.
---