Te Miro, Waikato
COTTAGE | FAMILY FRIENDLY OR ROMANCE
We welcome you to The Woolshed; a quirky, cosy, country cottage, ideal for couples romantic getaways or families who enjoy being surrounded by nature.
Cassie's Farm is a working drystock farm, running dairy grazers. The original woolshed on the farm has been converted into secluded and...
Read More
---
Essential Stay Info
Cottage
Cats Welcome
Dogs Welcome
Family Friendly
Horse Grazing Available
Rural Views
Check in time:
2pm
Check out time:
10am
Eating and Drinking
Bedding Configuration
Bedroom 1: 1 x Queen bed Bedroom 2: 2 x Single beds
More info about the property
The aim of the renovation was to maintain the original character of the building, the history and essential Kiwi-ness of it, as well as making it as eco-friendly and sustainable as possible. All of t...
Read More
---
Unique kiwi experiences for you
Great tracks for walking / biking
Explore our native bush blocks, ponds and new plantings
---
Have a question about this property?
Click here to send us a message
---
What we love about this property
It's unique and has character; cosy in winter; secluded and private; great views; wraparound deck. Have a go with our pizza oven!
---
Activities on or nearby this property
---
Amenities
BBQ
Campfire available
Drinking Water
DVD Player
Fridge (or cooling facility) available
Iron
Jug/Kettle
Linen Provided
Microwave
North Island
Oven
Picnic Table
Power Available
Property Manager on site
Radio
Rubbish bin
Shower
Toaster
Toilet
TV
Unsealed Roads
Washing Machine
Wifi Available
---
Drive Times
Auckland:
130m
---
Hamilton:
30m
---
Tauranga:
60m
---
Taupo:
75m
---
---
Extras you might like to add
These will be available to select during the booking progress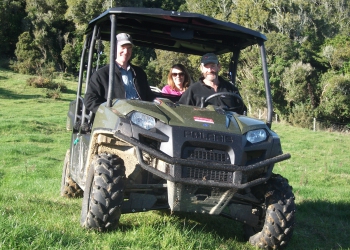 $0.00 Per Person

not currently available


---
Reviews

A beautiful place to stay. Great location for visiting local attractions. Had everything we needed & Tessa and Ian are very friendly and helpful hosts.
Linda - Jan 2022
it's so easy to feel welcome and relaxed at Cassie's Farm.
---
About your host, Trisha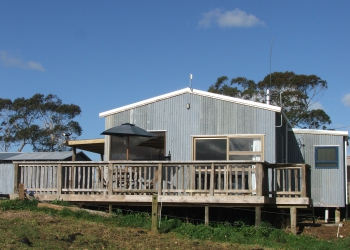 We are Ian Brennan and Trisha Wren, a Kiwi and a Scot, who moved to this farm from Scotland in 2005.

The Farm is a 220 acre drystock farm. We currently run dairy grazers - dairy calves and heifers that haven't started milking yet - plus a few beefies, and a couple of horses. (We don't have any horses for visitors to ride, but do enquire about bringing your own horse and riding on the farm!)

Before moving to this farm in 2005 we lived outside of Edinburgh where we planted six acres of mixed woodland on degraded land in 1997. Trees grow a lot slower there than here, but most of that planting is now closed canopy and has vastly increased the local bird population. Having spent so much effort to get those trees established, it is strange to think that most of them are considered noxious weeds in New Zealand!

Our dream is to reverse the damage that has been done to this land over the past 100 years. We are gradually fencing off, protecting, and replanting with natives all 7 of the streams that start on this farm, and all of the steep gullies that should probably never have been cleared of native bush in the first place, as well as creating shelter and fodder belts on each paddock.

We began revegetation planting in 2007 with the help of volunteers who were working on the Maungatautari project. Their knowledge and experience, not to mention their hard work and enthusiasm, got us off to a great start. Since 2009 we have done most of the revegetation work (fencing, planting and weeding) ourselves. To date we've planted 30,000 natives (mostly trees) and taken 12 acres out of production.
---
Questions and Answers
---
No questions have been asked yet. Why not ask one?