kohutu dairy farm [park site]
Manakau, Manawatu-Whanganui
CAMPING | ANIMAL ENCOUNTER | FAMILY FRIENDLY
Kohutu is the 106-year-old farm of the Martin Family, with a relaxed atmosphere and lots to enjoy. You can help feed the pigs and chickens and gather the eggs ... Pip also has an extensive veg garden. Cedar wood sauna available $10/session.
We are 1 hr from Wellington and 10 minutes from t...
Read More
---
Essential Stay Info
Camping
Park Site
Access to lakes, rivers, streams & beaches
Cats Welcome
Children Welcome
Dogs Welcome
Family Friendly
Rural Views
RV/Motorhome Camping
Self-Contained Vehicles
Single Safe
Eating and Drinking
Bedding Configuration
Park Site
More info about the property
This is a space on the concrete next to the garage. Smaller motor homes, camper vans, RV, caravans and tents. A toilet is available.

Please phone to check site availability 06 3626 826
---
Unique kiwi experiences for you
Walking, biking, swimming, animals on a working dairy farm
Kapiti Island Bird Sanctuary; Off the Loop Wake Park
Waikawa Beach and great local cafes; Otaki River walks; Paekakariki Coast Walk
---
Have a question about this property?
Click here to send us a message
---
What we love about this property
Our garden & dairy farm are great for families! Lots of space, hills to climb for views of the South Island, or Mt Taranaki, biking up the Waikawa Valley or out to the beach, swings, trampoline and p...
Read More
---
Activities on or nearby this property
---
Amenities
2WD caravan accessible
BBQ
Caravan accessible
Drinking Water
No Kitchen Facilities
North Island
Picnic Table
Property Manager on site
Rubbish bin
RV/Motorhome accessible
Swimming Pool
Toilet
Wheelchair Access
Wifi Available
---
Drive Times
Auckland:
8 hrs
---
Taupo:
3 1/2 hrs
---
Wellington:
1 hr
---
---
Reviews
We stayed one night on way to Wellington and liked it! The kids enjoyed the animals and playground (basic but works!) We got power and water for the motorhome and got help with pipe issues. Very friendly host !!! :-) Laundry was ok too. Very friendly host !
We spent one night here nicely tucked away on a good spot on the grass. Pip was very friendly and welcoming and the animals were cool for the kids. Recommend it!
---
About your host, Pip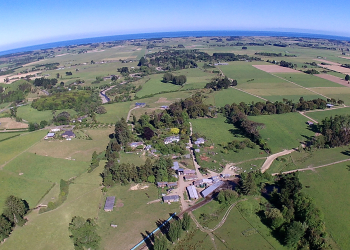 The Martin Family farm was purchased in 1917 for Guy Martin. John, his son, ran the dairy farm until his son, Andrew, took over the operation. Pip began as an English teacher but changed direction to set up Kohutu Health. Pip now works mainly in the garden and John helps on the farm where he can!
---
Questions and Answers
---
No questions have been asked yet. Why not ask one?