Tiniroto, Gisborne
HUT | SECLUDED | BUSH GETAWAY
This rustic but cozy cabin is nestled in a small clearing surrounded by native and pine forest. Enjoy a primitive yet comfortable off-grid night in the woods, cook over coals and heat the whistling kettle on the fireplace while listening to the creek gurgle and the wild-life night song. Climb into a...
Read More
---
Essential Stay Info
Cabin
Hut
4WD access only
Access to lakes, rivers, streams & beaches
Children Welcome
Digital Detox
Family Friendly
Solitude
Unique Accommodation
Check in time:
Any
Check out time:
Any
Eating and Drinking
At the cabin we have the basic utensils for eating, drinking and cooking, including cups for hot drinks and cool drinks, knives and forks and cooking utensils. We have a charcoal BBQ, and a firepit with a grill, also a small gas cooker that uses the screw in butane gas cannister (of which you will need to supply). We provide 20 liters of fresh drinking water on site. There is no fridge so you'll need to consider this if planning to stay longer than a couple of nights. However there is a good size chilly bin that lives at the cabin to utilize while you're there.
Bedding Configuration
The main bed is a comfy queen mattress, and the bunk room has 2 single spring mattresses. There is also a double air mattress which can be used in the...
Read More
More info about the property
Our Off Grid Remote Cabin is as it sounds, peacefully tucked away in a small clearing surrounded by forest and small streams. Primitive but comfortable, rustic but with elements of finesse, the perfec...
Read More
---
Unique kiwi experiences for you
Isolation, yet town is only half an hour away. Great place for cycling.
Surrounded by bush and native forest, perfect for reconnecting with the better half, a bit of forced rehab or just relaxing in a digital detox mode.
---
Have a question about this property?
Click here to send us a message
---
What we love about this property
Experience the amazing 'away from it all' feeling, the peace and serenity that our great grandparents lived in. Enjoy the starlit nights while the moreporks sing and the deer and possums skitch about...
Read More
---
Activities on or nearby this property
---
Amenities
4WD access to some areas
BBQ
Campfire available
Drinking Water
Hunting
Jug/Kettle
Limited mobile service
No Fridge or Cooling Available
No Wifi
North Island
Rubbish bin
Toilet
---
Drive Times
Auckland:
7 Hours
---
Hamilton:
5 Hours
---
Tauranga:
3 Hours 30 Minutes
---
Taupo:
5 Hours
---
Wellington:
9 Hours
---
---
Extras you might like to add
These will be available to select during the booking progress

$50.00 Bed

We can provide bed linen and make the beds up for you. This will include sheets, pillows, Duvet and extra blankets. This provides for a more comfortable sleep than getting tangled up in sleeping bags :) Price is $50 for the Queen bed, and $30 for the single beds.


---
About your host, Max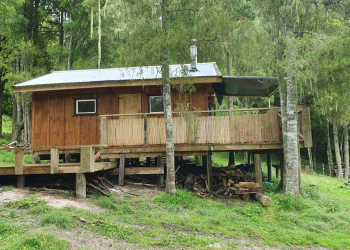 After going on a number of tramps in the Gisborne region with my boys and staying at Doc huts I wanted to find a spot that was as peaceful and secluded as the Doc hut scene, but required a bit less effort to get to and was a whole lot more comfortable. So we build the OZARKS cabin in a small clearing in a 40 acre forest we own so we could enjoy the classic back country NZ experience, and now we've decided to open it to the like minded to share.
---
Questions and Answers
---
No questions have been asked yet. Why not ask one?