Maimai, West Coast
COTTAGE | FARM STAY | GREAT FOR THE FAMILY
Mawheraiti is a 1,400 hectare working farm - we farm deer and cattle. Farmer Hamish is always looking for a gate opener if you want to see more of the farm.
There are lots of things to see and do. Mawheraiti backs on to the Paparoa National Park and the views are amazing and change with t...
Read More
---
Essential Stay Info
Cottage
Access to lakes, rivers, streams & beaches
Children Welcome
Country Pub
Digital Detox
Family Friendly
Farmstay experience
Historical Site
Rural Views
RV/Motorhome Camping
Solitude
Whole House
Check in time:
2 pm
Check out time:
10:30
Eating and Drinking
The cottage has a full kitchenette including oven, toaster, jug and microwave. As well as a dishwasher and washing machine.
Bedding Configuration
The cottage has 3 bedrooms. Bedroom one has a double bed as does bedroom two. The third room has 2 single beds.
More info about the property
Mawheraiti farm cottage is situated at the back of a 1400 hectare working farm. Native bush, hills and mountains can be viewed from every window. The farm backs on to the Paparoa National park. Your ...
Read More
---
Unique kiwi experiences for you
Mawheraiti has one the the oldest Rimu trees in New Zealand.
Backs on to a National Park
The views are very unique - snow capped mountains and moody bush clad hills.
---
Have a question about this property?
Click here to send us a message
---
What we love about this property
Our guests love how private the cottage is but how close things still are.
---
Activities on or nearby this property
---
Amenities
2WD caravan accessible
Bath tub
BBQ
Campfire available
Caravan accessible
Dishwasher
Drinking Water
Dump point nearby
DVD Player
Fan
Fridge (or cooling facility) available
Hair dryer
Heating (electric, gas or fireplace)
Hot Water Available
Jug/Kettle
Limited mobile service
Linen Provided
Microwave
Oven
Picnic Table
Power Available
Property Manager on site
RV/Motorhome accessible
Shower
South Island
Toaster
Toilet
Towels Provided
TV
Unsealed Roads
Washing Machine
---
Drive Times
Christchurch:
3 hrs 20 mins
---
Queenstown:
8 hrs
---
Dunedin:
7 hrs 30 min
---
Invercargill:
9 hrs
---
---
About your host, Katrina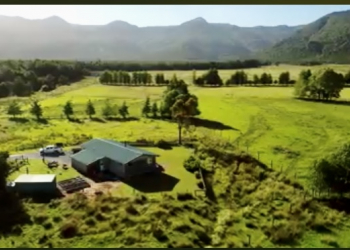 Hi! We are Katrina and Hamish and along with our children we farm Mawheraiti. We searched for many years for the property we were looking for and fell in love with Mawheraiti. We can't wait to one day watch our grandkids grow up here. The farm is a work in progress. We love boating and at the end of a long hot day we will often down to Lake Brunner for a waterski. We hope you enjoy your stay here and look forward to meeting you.
---
Questions and Answers
---
No questions have been asked yet. Why not ask one?