Hi, my name is Michele Connell, my husband Roy and I are the creators of Off the Beaten Track, an online booking platform that connects those wanting to explore rural New Zealand with a taste of real NZ authenticity.

We came up with the concept a few years back while watching an episode of Country Calendar, where a family living on a beautiful coastal farm with a river winding through it - that offered privacy and experiences seldom seen commercially - were featured. It struck us that the only people able to enjoy that stunning property… was the family themselves.

As Dairy Farmers in the heart of the Waikato, raising our 3 now grown up boys, we are well aware of the hardship that many rural families can experience, and the idea of sharing private land, sharing the lifestyle you love, offering unique experiences in undiscovered locations, whilst being able to diversify your income, was born.

I also own and manage Classic Events Ltd, which runs some of NZ's premier events including; Balloons over Waikato, Lugtons Round the Bridges, The North & South Island NZMCA Motorhome Caravan and Leisure Shows, and the Great New Zealand Food Show.

But Off the Beaten Track is my passion. With so much of our beautiful country in private ownership, Off The Beaten Track is all about sharing. Sharing the best of what New Zealand has to offer and providing people with never before access to the most fantastic places to stay. I invite you to jump in and find out what our real authentic New Zealand is all about… it's time to get off the beaten track, and experience New Zealand like never before.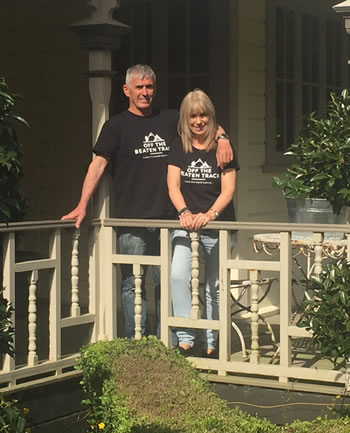 Michele and Roy Connell, founders of Off The Beaten Track
Michele, speaking on 'Country Life' about Off the Beaten Track.