Marlborough, New Zealand
PRIVATE ROOM | SPECTACULAR VIEWS | PETS WELCOME
Located in the pristine environment of the Pelorus Sound, this place is truly off-grid. The nearest road is far, far away and the only traffic is the occasional passing boat. During your journey by boat, you will leave city and town life far behind and will feel your stress melting away as you take ...
Read More
---
Essential Stay Info
Private Room
Cats Welcome
Dogs Welcome
Family Friendly
Check in time:
1400
Check out time:
1100
Eating and Drinking
Self contained kitchenette with gas cooking, a good range of utensils and a refrigerator. You can choose to prepare your own meals, or dine in our fully licenced restaurant for lunch and dinner meals.
Bedding Configuration
The apartment is normally configured with twin beds, but we can convert the twin beds into a king-size bed on request.
More info about the property
Nestled in lush native bush with an unrestricted sea view the apartment is a one-bedroom apartment with its own fully equipped kitchenette with fridge and cooking equipment. Each apartment has its own...
Read More
---
Unique kiwi experiences for you
Explore the private walking tracks
Kayak across the crystal clear waters
---
Have a question about this property?
Click here to send us a message
---
What we love about this property
We offer luxury accommodation and restaurant meals in a unique environment at very reasonable prices. Whether you want to swim, kayak, fish, or tramp the private tracks on the neighbouring farm or jus...
Read More
---
Activities on or nearby this property
---
Amenities
BBQ
Drinking Water
Electric blankets
Fridge (or cooling facility) available
Heating (electric, gas or fireplace)
Hot Water Available
Jug/Kettle
Linen Provided
Property Manager on site
Shower
South Island
Toaster
Toilet
Wifi Available
---
Drive Times
Christchurch:
5h
---
Queenstown:
11h
---
Dunedin:
9h
---
Invercargill:
11h
---
---
About your host, Debbie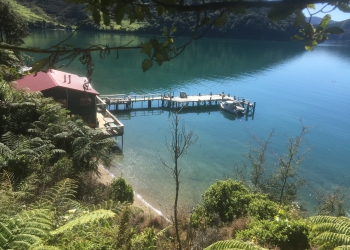 ---
Questions and Answers
---
Question:
How far is it from Havelock by boat and do you know the cost by water taxi? Or is there a mooring that is available if we chose to bring our own boat?
asked by Matt on 10/03/2021 12:45
Answer:
Hi Matt. Trip takes 45 mins at 23 knots. The Lodge At Te Rawa water taxi is $230 per trip for up to 6 pax. We have 7 free swing moorings if you bring your own boat.
answered by Debbie on 11/03/2021 15:27
---