Hope, Tasman
LODGE | LARGE GROUPS | FAMILY FRIENDLY
With the capacity to accommodate individual travellers or groups of up to 20 guests in seven comfortable bedrooms and a separate self-contained cottage, we have seen lots of family reunions, get-togethers of friendly families, fun weddings, Christmas and Easter celebrations and great summer holidays...
Read More
---
Essential Stay Info
Guest House
Lodge
Villa
Breakfast Available
Dinner Available
Lunch Available
Children Welcome
Family Friendly
Horse Grazing Available
Rural Views
Solitude
Sustainable Stays
Unique Accommodation
Whole House
Check in time:
from 2pm
Check out time:
10am
Eating and Drinking
Generous fully equipped kitchen, including two fridges, large oven/gas gob, microwave etc. Everything you need for self-catering. Fresh farm breakfast can be booked separately. We are happy to receive supermarket orders for you before your group's arrival. We can also recommend plenty of awesome restaurants nearby, help arrange catering or maybe a private chef to cook up a storm exclusively for you in the lodge kitchen.
Bedding Configuration
2x King (or twin) with ensuite and balcony, 1x King (or twin) with balcony (for smaller groups this room can be configured with an ensuite bathroom on...
Read More
More info about the property
This rate is for groups that would like the exclusive use of the lodge building. It includes all available rooms in the lodge and sleeps up to 16 guests. The lodge has 5 bathrooms: 2x ensuites, 1 full...
Read More
---
Unique kiwi experiences for you
Walking, kayaking, sailing or just relaxing in the stunning Abel Tasman National Park
Cycling Tasman's Great Taste Cycle Trail and sampling wine and food at numerous local vineyards
Enjoy farm life, hunt for eggs, feed the ducks or laze in our rustic outdoor bath and watch the birds in the native bush
---
Have a question about this property?
Click here to send us a message
---
What we love about this property
Being located on an idyllic, slightly elevated pear orchard in the heart of the sunny Nelson Tasman area, the property is a peaceful haven for individual travellers, groups, and families with amazing ...
Read More
---
Activities on or nearby this property
---
Amenities
Bath tub
BBQ
Campfire available
Clothes Dryer
Drinking Water
Fan
Fridge (or cooling facility) available
Hair dryer
Heating (electric, gas or fireplace)
Hot Water Available
Iron
Jug/Kettle
Linen Provided
Microwave
Oven
Picnic Table
Power Available
Property Manager on site
Radio
Rubbish bin
RV/Motorhome accessible
Shower
South Island
Toaster
Toilet
Towels Provided
Washing Machine
Wheelchair Access
Wifi Available
---
Drive Times
Christchurch:
5 hours
---
Queenstown:
10 hours 30 minutes
---
Dunedin:
9 hours
---
Invercargill:
12 hours
---
---
Reviews

"The Lodge was the perfect location, accommodation for our large extended family in Jan 2020. We took over the whole lodge and this was an excellent decision as we were able to treat it as our home for 3 nights. Excellent facilities, showers, living areas, gardens, and wonderful hosts. Free-range eggs were a plus and strongly recommend buying the pear juice - what a treat. Timo - lives close by and were willing to help in any way. Would recommend to other large family groups whom want a special place to call home, Cheers David" - David

"We stayed here for 1 night and it was one of our favorites during our NZ holiday. The owner is super friendly and our stay has been a delight. There was plenty of parking, the rooms were absolutely clean and extremely cozy, in addition, the shared bathroom was super nice in Scandinavian design. We were welcomed to walk around the farm and visit some of the nice local animals. The breakfast in the morning was outstanding especially due to the homemade german bread as well as homemade jams. I would stay here anytime again!" - Alex W
---
About your host, Olivia & Timo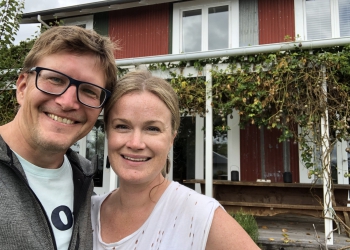 In pursuit of our dream of living the good life, we gave up city life and our professional jobs and moved to The Pear Orchard in 2013. Since then we renovated the old farm house, repaired the outbuildings, designed and built The Lodge and the Shearer's Cottage. We opened doors for the 2015/16 summer season and we enjoyed welcoming hundreds of visitors since. We have lived abroad and travelled extensively ourselves - and we loved it! We love the genuine country life and take great pleasure from sharing it with our visitors. We invite you to visit our little slice of paradise and hope to meet you soon.
---
Questions and Answers
---
No questions have been asked yet. Why not ask one?
Check Availability
Minimum 2 nights
Select a check in date above to get started!
Have a question about this property?
Click here to send us a message
Also available at this property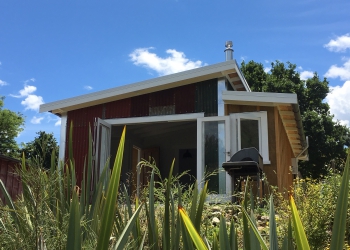 Modern Shearer's ...
CABIN | STYLISH RETREAT | FAMILY FRIENDLY
Hope, Tasman
Other Properties in Tasman