Kumara, West Coast
PRIVATE ROOM | STAR GAZING | BIRD LIFE
Greenstone Retreat is an enchanting wellness retreat " in the middle of everywhere and away from it all". It is a place to escape from the crazy world and enter into wild, relaxing and comfortable spaces, to socialise with other guests, or to be alone. Come enjoy our wild gardens on an environmental...
Read More
---
Essential Stay Info
Private Room
Children Welcome
Digital Detox
Dogs Welcome
Family Friendly
Self-Contained Vehicles
Shared Bathroom
Shared Living Area
Single Safe
Solitude
Sustainable Stays
Unique Accommodation
Check in time:
Between 4pm and 7.30pm
Check out time:
10am
Eating and Drinking
Bedding Configuration
4 x Single beds (2 x Bunk sets)
More info about the property
Rooms sleep 4 in sturdy bunks. Newly created and decorated, these 4-bed private rooms have lots of space, sturdy comfortable beds, new carpets, bedding, and pillows. Warm heaters, hot water bottles, ...
Read More
---
Unique kiwi experiences for you
Quiet location on edge of village & walking distance from local hotel/pub.
Near Wilderness Cycle trail & other small walks.
Stars, Birds, Dogs and Magic..... need I say more
---
Have a question about this property?
Click here to send us a message
---
What we love about this property
The guests that find this place seem to be wonderful, respectful, interesting and social. Stories are shared between cyclists on the wilderness trail, Kiwi families on holiday, young international tra...
Read More
---
Activities on or nearby this property
---
Amenities
BBQ
Clothes Dryer
Drinking Water
Fridge (or cooling facility) available
Hair dryer
Heating (electric, gas or fireplace)
Jug/Kettle
Linen Provided
Microwave
Picnic Table
Power Available
Property Manager on site
Rubbish bin
RV/Motorhome accessible
Sealed roads only
Shower
South Island
Toaster
Towels Provided
Washing Machine
Wheelchair Access
Wifi Available
---
Drive Times
Christchurch:
3 hours
---
---
Extras you might like to add
These will be available to select during the booking progress

$40.00 per hour

Sound Healing is a powerful therapy that combines different healing sounds, music, and special sound healing instruments to improve our multidimensional well-being by creating a beautiful experience where all layers of our energy field (body, mind, soul, spirit) are awakened gently and lovingly. Integral Sound Healing is highly effective at triggering our relaxation response, which counters the many symptoms caused by chronic stress, while helping to balance our whole being. The sound vibrations produced by the sound healing instruments penetrate deep into the tissue, improving blood circulation and metabolism, and regulating muscle tension, regulating the nervous system and adrenal glands and so much more. Allow your body to heal through sound and relaxation. Guided meditation and yoga nidra can be added along with restorative yoga to get the meridians flowing with energy. Regeneration and repair mechanisms are stimulated too, the reason why sound healing is both activating and relaxing, leading the patient to feel a refreshing effect for longer periods. Crystal bowls, Tibetan singing bowl, chimes, drums, gong, bells and more will be played to allow your cells to vibrate back into harmony and peaceful bliss. Book a half hour ($40) or hour ($75) session with Kate. 02108113396



$15.00 per hour or session

Kate has many years of yoga practice and study behind her and has completed 350 hour teacher training with My Health Yoga. 2022/3 will find Kate studying again with the Level 2 teacher training. Each class is unique and follows the 8 limbs of yoga from Patanjali's yoga sutras. Expect meditation and breathwork. Predominantly gentle Hatha yoga and occasionally more energetic asanas and postures may be explored whether flowing yang style or still yin. Add balance, strength and sound healing relaxation to leave you fully connected to your body, mind and soul. Classes are suitable for beginners upto intermediate and held in a safe, supportive and beautiful new purpose build EVOLve yoga studio. Current Classes are Hatha yoga on Monday evenings starting 7pm during winter and 7.30pm over Summer and Yin yoga on Saturday mornings 8.30am. 75 minutes for $15. Each session ends with a short sound healing to completely relax your body and monkey mind! Perfect recharge. All welcome to come and connect to yourself through gentle hatha yoga. Incorporating physical asana and meditation to improve balance, flexibility, strength and relaxation through movement, stillness and breathing exercises. Sound healing now available alongside yoga or on its own as a deep healing and relaxation experience. Small classes can be tailored to your needs. All levels of experience including complete beginners welcome. Classes and workshops start at $12 for an hour and range from 75 minute to several hours. Private classes for $75 for upto 4 people to focus on your individual needs. Great to get you started or to work through a physical or emotional hurdle.



$85.00 per hour

Healing Massage including deep tissue or relaxation with Sheena Sheena Glass, an experienced masseuse and aromatherapist will be offering a range of therapies from Indian head massage and deep tissue massage, to reiki and relaxation massage. Sheena will work with you to create a personalized treatment tailored to your needs, using deep relaxation strokes and applied pressure points to leave you feeling refreshed, revitalised and in a state of balance with your own body and energy flow. She will also have some aromatherapy blends on hand to purchase, allowing you to continue this flow in your daily life. Sheena is also newly qualified in Hypnotherapy…..and is able to work with you as an individual or as a group. Prices to be arranged. 30, 60 or 90 minute treatments, advanced booking essential. Day time or evening spaces available with minimum numbers. $85 per hour. BOOK here with Sheena directly. Please note she needs 10 minutes between appointments if booking multiple massages. https://www.fresha.com/a/solavana-therapist-kumara-45-greenstone-road-nrm9biu2?fbclid=IwAR3wdYA6f1H1T18qsQKgwsO_0b9sYf77D4w5-atTzf5XOudLIHOxPDqcdzo


---
Reviews
The honesty system. The relaxed atmosphere. The interesting grounds and commitment to caring for the environment. The caravan was comfortable and very clean.
This is a beautifully renovated property that Kate has taken great care to lovingly restore. It is very quiet and peaceful and I would have no hesitation in recommending this as a great place to stay for either a short stay or longer.
---
About your host, Kate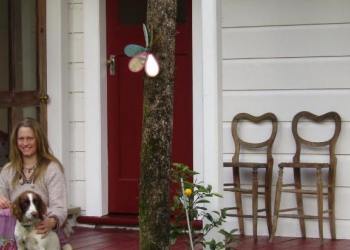 I arrived on the West Coast at the tender age of 25 from Dorset, England and promptly found a place that I could call home.
After working in hospitality in Franz Josef, Hokitika, then four and a half years in Punakaiki, I bought a rundown property in Kumara.
The property had been on the market for more than 10 years and needed a lot of love. It had beautiful bones and a nice feeling even though it was rotting, wild, smashed and broken in places.

After a few hectic hard years of working full-time, learning as I went, landscaping and renovating, I took a leap of faith and opened the Villa as a holiday home.

The retreat is now entering a new phase and will be offering Yoga classes, massage, reflexology, Sudjok Korean Therapy and other healing treatments throughout summer. Hidden within a tent surrounded by wild garden and the sweet music of birdsong, this tranquil space allows you to relax, rejuvenate and reconnect with your soul and spirit.

My springer spaniel Scout is my entertainment - as well as meet and greet manager. Between us we enjoy getting to know each guest, learning and sharing the stories and going the extra mile with genuine interest and kindness. Who knows what comes next, but I see a few more large tents, a couple of powered sites, workshops for healing and yoga, organics, creating music and art and who knows what else! I am always open to ideas and feedback.
I love my home here and am happy to share the space with you. It will never be finished, it will always be a little wild and is progressing organically.

I look forward to welcoming you to my home.
---
Questions and Answers
---
No questions have been asked yet. Why not ask one?
Check Availability
Minimum 2 nights
Select a check in date above to get started!
Have a question about this property?
Click here to send us a message
Also available at this property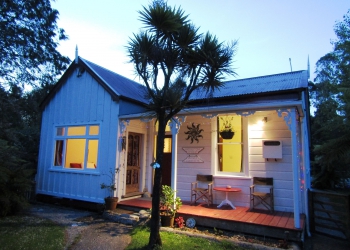 Cosy Kumara Villa
VILLA | STAR GAZING | BIRD LIFE
Kumara, West Coast
Other Properties in West Coast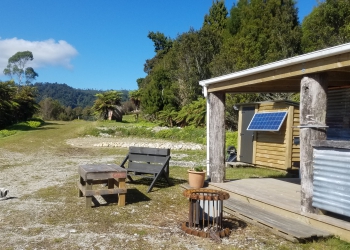 Eco-friendly Farm...
PARK SITE | STAR GAZING | FARM ANIMALS TO PET & FEED
Arahura Valley, West Coast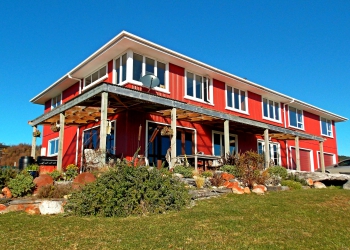 The Farmhouse
FARMSTAY | BREAKFAST INCLUDED | FARMSTAY
Arahura Valley, West Coast