Pukeokahu, Manawatu-Whanganui
CABIN | FARMSTAY | HUNTING
The Love Shack is situated on a working hill country sheep and beef farm, nestled into the foothills of the Ruahine Ranges and right beside the gorge section of the Rangitikei River.
We offer guided hunting (red and fallow deer both present), farm tours incorporating the stunning "Narro...
Read More
---
Essential Stay Info
Cabin
Family Friendly
Farmstay experience
Check in time:
2pm
Check out time:
10am
Eating and Drinking
There are a few restaurants and takeaways as well as a supermarket in Taihape (30 minutes drive away).
I am also happy to provide meals with plenty of notice.
Bedding Configuration
The bedroom has a double bed and the living area has a futon couch which folds into a double bed so max 4 people.
More info about the property
Our boutique remote shack is a great place to adventure.
---
Unique kiwi experiences for you
See "the Narrows" section of the Rangitikei River
Check out Grade 5 White Water Rafting with River Valley adventure lodge
---
Have a question about this property?
Click here to send us a message
---
What we love about this property
We are set in the foothills of the Ruahine Ranges on a sheep and beef farm with good hunting, great (if somewhat intrepid) trout fishing, and stunning countryside.
---
Activities on or nearby this property
---
Amenities
4WD access to some areas
Caravan accessible
Drinking Water
Fridge (or cooling facility) available
Heating (electric, gas or fireplace)
Hot Water Available
Hunting
Jug/Kettle
Linen Provided
Microwave
North Island
Oven
Picnic Table
Property Manager on site
Radio
Rubbish bin
Shower
Toaster
Toilet
Towels Provided
Unsealed Roads
Washing Machine
Wifi Available
---
Extras you might like to add
These will be available to select during the booking progress

$50.00 Per group

Dependent on the occurrences on the farm during the time of your stay but we will endeavor to make available a farm tour so you can see the workings of a hill country sheep and beef farm, have a look at our little river hut, check out the Narrows on the Rangitikei River, have a look at our native bush which has been put into QEII covenant recently, and on a fine day check out the views of Ruapehu in the distance. This would be either in a side by side vehicle or as a passenger on a quad bike



$150.00 Per person

Let the farmer take you out to look for a deer. We have red and fallow deer both on our farm - you just need to know where to look! You will be given the option to shoot a meat animal depending on what presents itself. If needed and at extra cost, a lesson can be provided in skinning and breaking your animal down for transport - any meat that you get is yours to take home.



$40.00 One off - per deer

Our guide will show you how to skin your animal and break it down for transporting home


---
Reviews

Very welcoming family. We had a wonderful "Off The Beaten Track" experience!
Harold - Jun 2023

We were very happy with our stay and the owners were very helpful. We will be back again.
Mark - Jun 2023
---
About your host, Kylie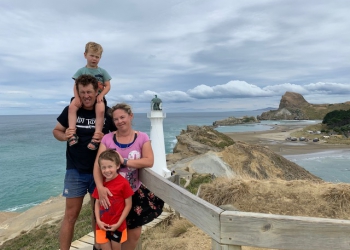 We are a farming family located in the hill country east of Taihape. We work hard but we do also like to play - dad goes hunting and mum likes to run and manage her beehives. The kids (two wee farm boys) are often found outside building things, playing in the sand pit or shooting deer with their stick guns.
---
Questions and Answers
---
Question:
Hi could please clarify what the hunting fee includes?
asked by Mark on 01/05/2023 21:25
Answer:
Hi Mark, The hunting fee includes the opportunity to go out deer hunting. We always do our best to provide the opportunity to shoot a deer, however as they are wild there are no guarantees. So far we've only sent one hunter home empty handed (they had a few shots at deer but we're unsuccessful) and we haven't sent anyone home unsatisfied yet… We can also provide use of our rifle if you don't have your own, and some pointers if you're new to hunting. Reasonably flexible depending on experience.
answered by Kylie on 02/05/2023 12:20
---